Have potential customers call you
while they are on your website!
Increase calls to your business

Only pay for the calls you receive

Lowest call rates in the market

Reduce website abandonment

Worldwide reliable service!
Step 1
Add the Click-to-Call icon
Place Delacon's EasyClick2Call button on your website to make it easy for potential customers to click-to-call you.
Step 2
Website Visitors Call
Website vistors click the button, and a call is instantly made to your business and to the caller. You are connected to your website visitors straight away.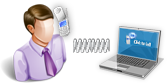 Step 3
Make the Sale
You have reduced website abandoment and have made a sale that may have been otherwise lost.

easyclick2call can increase your customer conversion rate by up to 38%!
EasyClick2Call allows visitors to your website to make a free phone call directly to you. Potential customers are more likely to contact you with a question if it's easy and free, so EasyClick2Call is a powerful way to generate more leads. More information